Tac Pac
WVSM wearable tactical kit
Ideal monitoring solution for SWAT, tactical and active shooter scenarios
The WVSM® Tactical Pac is designed to bring automated, multi-patient, portable medical monitoring capability wherever you go in a lightweight, modular package.
Designed to move with you
The small size and light weight of the WVSM® (Wireless Vital Signs Monitor) makes it one of the most portable FDA cleared medical monitors on the market. Tactical Pac further enhances this capability by placing two WVSM monitors directly at hand, in any scenario. With WVSM and Tactical Pac you can now monitor multiple patients, on the move, at any time.
Tactical Pac is an adaptable MOLLE pouch specifically designed to hold two WVSMs and all accessories, including a centralized monitoring device such as a smart phone.
Multiple patient monitoring
A unique feature of the WVSM is its multiple patient monitoring capability. Up to 20 patients can be wirelessly connected to one care provider and monitored simultaneously on one computer or iOS device. This allows for quick and easy data acquisition and aids in triage decisions during mass casualty incidents. Multiple patients can also be monitored in treatment and care facilities in order to assess patient condition over time and for those patients with chronic disease.
Tactical Pac is an automated, multi-patient monitor in a lightweight, modular package.
Features
Two (2) WVSM®s with peripherals (Measuring NIBP, HR, SpO2 and ECG)
TacPac is available in black or orange
Optional centralized monitoring device
Applications
Brochure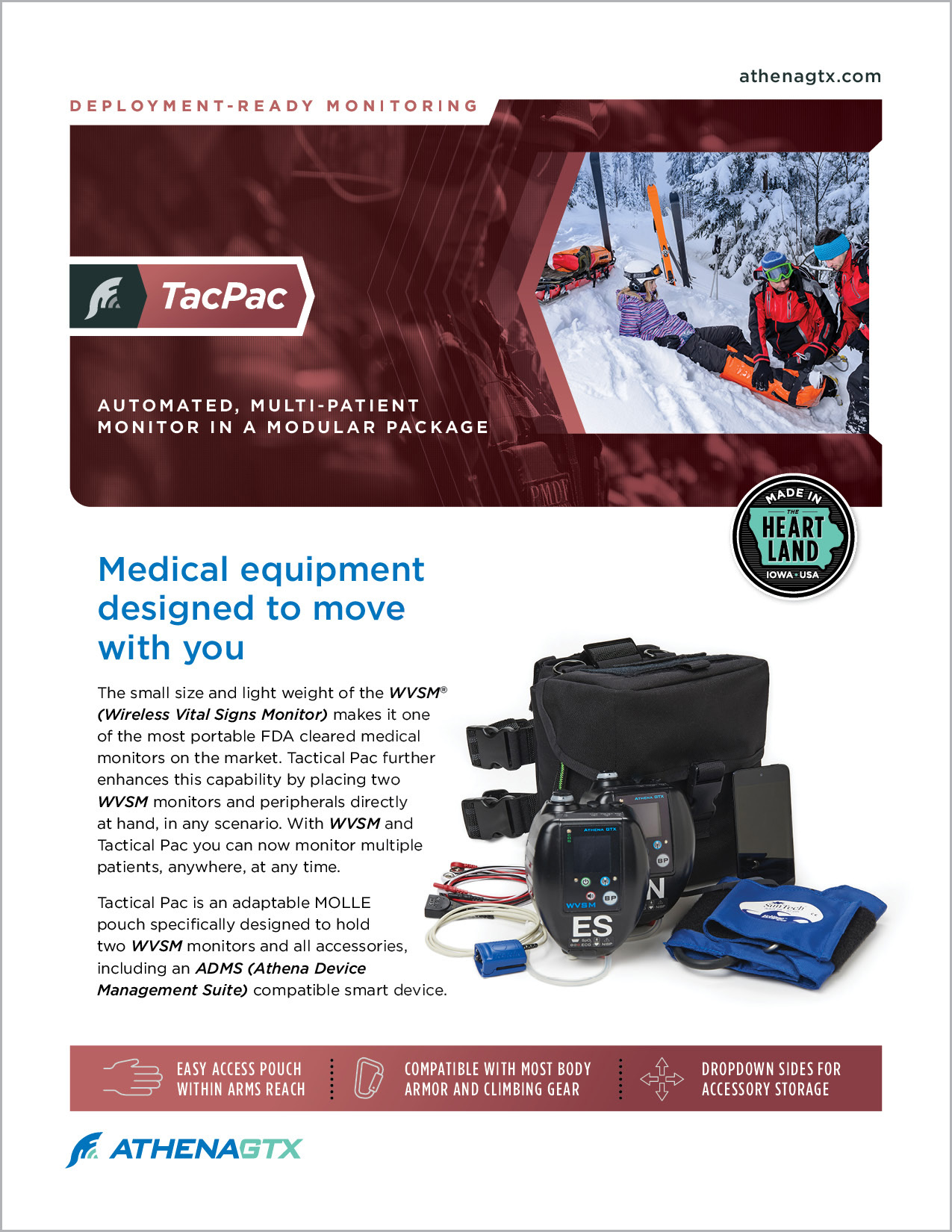 Click the image to download